Cherri Esezobor, CPNP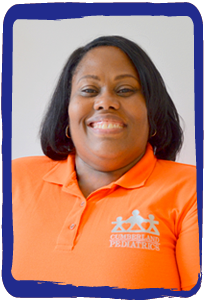 Cherri Esezobor, CPNP, is a certified pediatric nurse practitioner. Her educational background includes a Bachelor of Science in Nursing from Kennesaw State University and a Master of Science from Georgia State University. Ms.Esezobor has over 20 years of nursing experience which includes Wellstar Health System, Public Health Department, Cobb County School System and most recently in a private pediatric practice in Atlanta.
She enjoys working with children of all ages and most importantly educating their parents on the importance of health maintenance and lifestyle safety. She has had the opportunity to live in several different countries and that experience fuels her passion for excellent health care.
Cherri loves to sew cook and spend quality time with her family.