Asthma Management
Is your child coughing all the time, especially at night? Your child may have asthma. Don't panic. Don't google it. Make an appointment to see us.
Many times you may not actually hear a "wheeze". The chronic cough may be your only clue. Once we have your child's symptoms under control, we can then explore what may be causing the wheezing. It may "run in your family", or it could be seasonal, exercise-induced or allergy related. Some foods can cause your child to wheeze. We can test for food allergies in-house and have the results back ASAP. Food allergies are very serious and some such as peanuts, shellfish, and fish are life-threatening.
Asthma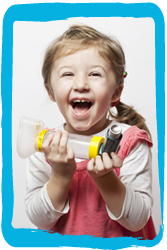 We like to see children every 3 months if they have asthma. Children five years or older will have a "lung test" called a Spirometry done at least once a year.
Our providers have a special interest in asthma and pride themselves on having a very low rate of hospitalizations of their asthma patients. So fill out the forms for asthma and allergies, bring them with you to your child's visit, and let's stop that chronic cough!
Please visit the follwing websites for more information on asthma.